Leslie Shafer Wins the

2016 BRIDGE TEACHER OF THE YEAR Award!!
July 19, 2016 at the
American Bridge Teachers' Association in DC!
I was so pleased to have been chosen for this honor. It has truly been one of the greatest privileges I have had in life, to teach others about the wonderful game of bridge. A big THANK YOU to all of you who helped to make this happen. Your encouragement of my efforts is so appreciated!
Here's a link to the ACBL article on this award!
---
This site is a clearinghouse of information on classes being run by our professional team of bridge teachers: Leslie Shafer and Charlie Williams. If you have any questions that you don't see addressed on this website, please let me know. The best years of my life started when I began to teach bridge full time, about 20 years ago, meeting all of you and making so many new friends. What a blessing it is to be able to love your job. Not only is bridge a wonderful sport, but we have found that for many students, it has enriched their own personal social contacts. Our mission statement is to spread the love of bridge to everyone. Thanks for your time. — Leslie
What's here? On this site, you will find a list of both current and upcoming classes in the Montgomery County (Maryland) area. You will also find my classroom policies, humor, the best internet bridge sites and so much more. I hope you enjoy what I have included here in the website for you.
Reminder – Student Game Schedule!
Wednesday Student Game is Running Every Week Through to the Fall with one exception: There will be no student game (12:30 – 3:00) on July 5. Everyone will be at the exciting local Regional bridge tournament in Bethesda. So no student game at our PUMC for that game/date only: July 5. The other dates in July, August September, October, etc., will be held every week with no foreseeable cancellations. Have fun!!
Reminder – 2017 Summer Regional (Intermediate/Novice Schedule in Bethesda )
Click below!
The upcoming local Bethesda Regional Bridge Tournament is from July 3 – 9, 2017. It is located at the Bethesda North Marriott on Martinelli Road near the Rockville Aquatic Center and Rockville Pike (Rt. 355). Please Come!! Charlie and I will be helping out the Novice/Intermediate check in desk, will help you buy your entry, find your playing area, take pictures of you with your trophies. Lots of fun!! There are free lectures before the afternoon and evening sessions. Come 45 minutes early to get that FREE and entertaining lesson from local hot shots! On July 5, any partnership that has 0-5 masterpoints, you can play for free all day long!! Woot!!
Registration is now open.
NEW!
You can now register online and pay with MasterCard or Visa. Payment is made through the secure services of Authorize.net. No credit card information is stored by bridgeteacher.com.
Brand New Beginner Bridge Part 1 Classes!
Please tell your friends!!! Monday Nights at the UMC* site. For those who've never played before or who haven't played in many years and want to start over. Topics: point count evaluation, opening bids and responses, basic play of the hand techniques. Six weeks, starts September 11, 7-9 PM! Tuition is $150. We'll be listing the class on our Registration page in the next few days. If you wish to pay the tuition now, you can send it to: Leslie Shafer, 9200 Edwards Way, Apt. # 1115, Hyattsville, MD 20783.
Click here for the Summer Beginner Bridge Part 1 Registration Page.
---
Student Play Time
Current students are invited to participate in our Student Duplicate Game!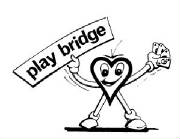 Every Wednesday, 12:30 – 3:00 PM, at our UMC site.
United Methodist Church Activity Center
9908 So. Glen Road
Potomac, MD
This is a students only game and clients of Leslie, Charlie & Isabelle Thabault are allowed to participate. Directed by Charlie Williams. Cost: $10