Current students are invited to participate in our Student Duplicate Game!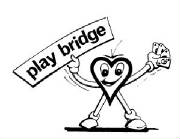 Every Wednesday, 12:30 – 3:00 PM, at our UMC site.
United Methodist Church Activity Center
9908 So. Glen Road
Potomac, MD
This is a students only game and clients of Leslie, Charlie & Isabelle Thabault are allowed to participate. Directed by Charlie Williams. Cost: $10
Wednesday, Jan. 17, 2018
No Student game today due to weather!!  See you next week.  Stay safe!